Everyone hits milestones in their lives.  I remember most of mine.  There may be a couple along the way missed due to the prevalent blood alcohol content of the day.  Okay, there could be a few holes in my past, but milestones are pretty important.  Work with me here.
I remember my first car.  I remember my first concert.  I remember my first marriage.  I remember the end of my first marriage. (I'll leave subsequent matrimonial experiences alone.) I remember the first girlfriend and the first sumpin' sumpin'. I remember my first job, my first motorcycle ride, my first (fill_in_the_blank) …..  Seeing a pattern here?
Today is the first time my website hit 10,000 views. At 9:25 am, www.theprodigalscribe.com clicked into the 10K zone.

Now that might not seem like a lot considering many of the more popular writers get that in an hour or so, but this is me we are talking about.  From the day TPS went live some 18 months ago to today, many of you have come to see what my journey is all about.  And for that, I humbly thank you!
To express gratitude, I have dropped the price of the Kindle version of HAUNTING INJUSTICE from $7.99 to $5.99.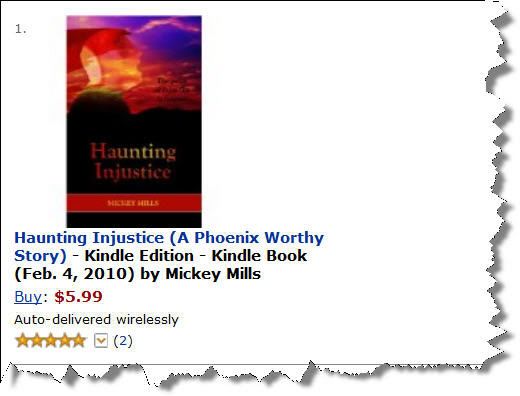 Lastly, if you are one of those that like the feel of a new book in your hands and the smell of the paper tickling your nose as you turn the pages, I am offering a 20% discount for copies of HAUNTING INJUSTICE purchased directly from the publisher.
To get the discount go to: HAUNTING INJUSTICE at CreateSpace
Enter the code FRH2R9XG when checking out.
The last big milestone, before this one, was two weeks ago when I climbed back on Pearl for the first time since the accident. It was like manna from heaven with a little bit more horsepower – zoom cubed. It's good to be back on the bike, but I'm still not fully healed.
The last few days I have been running through a regiment of stretching and isometric exercises to ready myself for next weeks visit with the orthopedic doc. It's been a painful experience. I see an MRI in my near future to determine possibility of rotator cuff damage and is a surgery in the cards or deal with it through more exercises. I vote for more exercises.  I am hoping that surgery is a remote possibility and would be subject to serious contemplation if that's what the surgeon recommends. More will be revealed.
And that, as they say, is that in a nutshell.  It's been over a month since my last blog here, and part of my writing recovery is going to start right here.  I'm going to do a much better job of keeping up with this blog.  Oh, and there is the matter of book two to be written.